Watch The Shape of Water
---
"A Fairy Tale for Troubled Times"
This fantasy film focuses on an unassuming woman who works as a cleaner in a government laboratory facility in the 1960s. When she finds a secret experiment in the lab, she becomes far too interested in it for her own good. The film was written and directed by Guillermo del Toro and was released in 2017 to critical acclaim.
|
2017
|
2 hr 3 min
|

/

10
Cast

Director

Guillermo del Toro

Language

English
The Shape of Water News
Oscar Ratings Fall to Historic Low
March 06, 2018 @ 5:45 am PST
|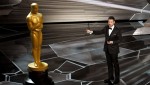 Not many people went to see the films nominated for Best Picture, and not many tuned in to see them win awards on Sunday.
Read More

Which Oscar Nominees Will Get the Biggest Box-Office Bump?
January 24, 2018 @ 12:14 pm PST
|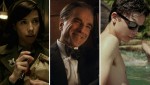 You probably haven't seen most of the movies nominated for best picture this year, but now you'll get a second chance.
Read More

Jordan Peele Wins Oscar for 'Get Out'
March 05, 2018 @ 6:21 am PST
|
Read More

Greta Gerwig Nominated for Best Director Oscar
January 23, 2018 @ 9:46 am PST
|
Read More

Watch The Shape of Water Trailer

THE SHAPE OF WATER | Official Trailer | FOX Searchlight|2:31

Watch The Shape of Water Online - Watch online anytime anywhere: Stream, Buy, Rent
The Shape of Water is currently available to watch and stream, buy, rent on demand at Google Play, iTunes online.